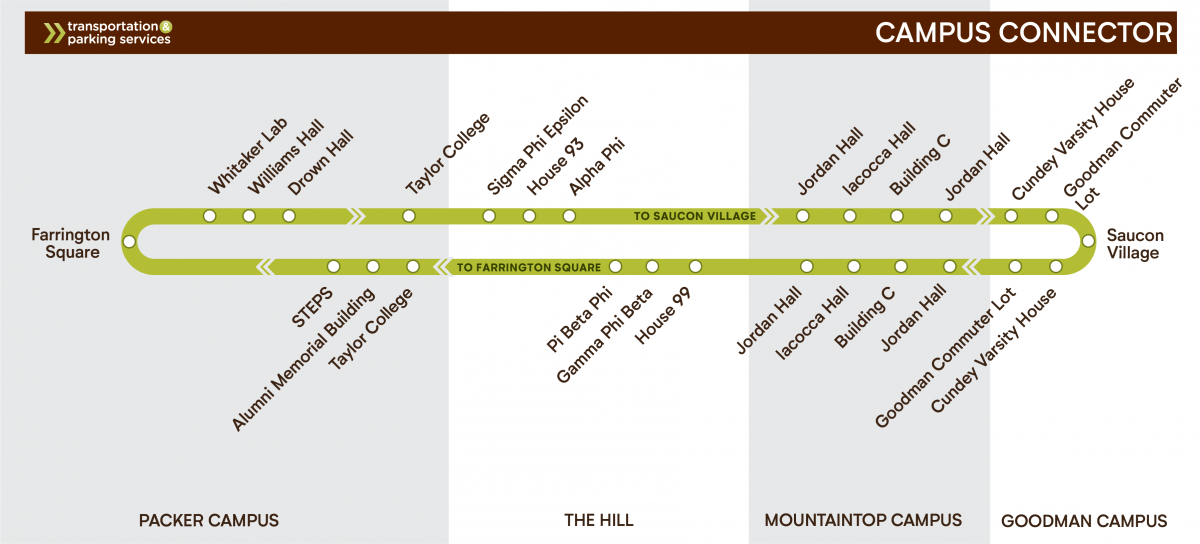 Transportation Services will be piloting a new transit system beginning on Monday, January 23, 2023.  Please provide feedback HERE to help us continue to assess and improve our bus services.  
WEEKENDS - Saturday and Sunday
The Campus Connector (CC): Transports passengers to/from all bus stops located on the Asa Packer, Mountaintop, Goodman campuses and Saucon Village from 10:00 AM - 12:00 AM. The Campus Connector will take passengers from Asa to Mountaintop to Goodman to Saucon Village. From Saucon Village it will take passengers back to Goodman to Mountaintop to Asa Packer campus.
Please note: On Demand Service will no longer be available as the Campus Connector will be servicing all three campuses and Saucon Village.
Bus Stops and Departure Times
Campus Connector Stops at:
Whitaker Lab
Williams Hall
Drown Hall
Taylor College
Sigma Phi Epsilon
House 93
Alpha Phi
Jordan Hall
Iacocca Hall
Building C
Jordan Hall
Cundey Varsity House
Goodman Circle
Saucon Village
Cundey Varsity House
Goodman Circle
Jordan Hall
Building C
Iacocca Hall
Jordan Hall
House 99
Gamma Phi Beta
Phi Beta Phi
Taylor College
Alumni Building
S.T.E.P.S.
Farrington Square
Whitaker Lab
Departure Times - Start and End of Route
The following are estimated departure times for the start and end of the Campus Connector route. The times are approximations and may fluctuate based on traffic and weather. Please use the live bus tracker for real-time arrival times.
Campus Connector - Weekends
10:00 AM
Saucon Village
10:15 AM
Iacocca Hall NB
10:30 AM
Whitaker Lab
10:45 AM
Iacocca SB
11:00 AM
Saucon Village
11:15 AM
Iacocca Hall NB
11:30 AM
Whitaker Lab
11:45 AM
Iacocca SB
12:00 PM
Saucon Village
12:15 PM
Iacocca Hall NB
12:30 PM
Whitaker Lab
12:45 PM
Iacocca SB
1:00 PM
Saucon Village
1:15 PM
Iacocca Hall NB
1:30 PM
Whitaker Lab
1:45 PM
Iacocca SB
2:00 PM
Saucon Village
2:15 PM
Iacocca Hall NB
2:30 PM
Whitaker Lab
2:45 PM
Iacocca SB
3:00 PM
Saucon Village
3:15 PM
Iacocca Hall NB
3:30 PM
Whitaker Lab
3:45 PM
Iacocca SB
4:00 PM
Saucon Village
4:15 PM
Iacocca Hall NB
4:30 PM
Whitaker Lab
4:45 PM
Iacocca SB
5:00 PM
Saucon Village
5:15 PM
Iacocca Hall NB
5:30 PM
Whitaker Lab
5:45 PM
Iacocca SB
6:00 PM
Saucon Village
6:15 PM
Iacocca Hall NB
6:30 PM
Whitaker Lab
6:45 PM
Iacocca SB
7:00 PM
Saucon Village
7:15 PM
Iacocca Hall NB
7:30 PM
Whitaker Lab
7:45 PM
Iacocca SB
8:00 PM
Saucon Village
8:15 PM
Iacocca Hall NB
8:30 PM
Whitaker Lab
8:45 PM
Iacocca SB
9:00 PM
Saucon Village
9:15 PM
Iacocca Hall NB
9:30 PM
Whitaker Lab
9:45 PM
Iacocca SB
10:00 PM
Saucon Village
10:15 PM
Iacocca Hall NB
10:30 PM
Whitaker Lab
10:45 PM
Iacocca SB
11:00 PM
Saucon Village
11:15 PM
Iacocca Hall NB
11:30 PM
Whitaker Lab
11:45 PM
Iacocca SB
12:00 AM
Saucon Village