General Trademarks/Licensing Policies
The names and marks of the University will not be used in the promotion of alcohol, tobacco, and "recreational" drug products.

The names and marks of The University are to be used on products which are tasteful and of such a nature as to reflect positively on the image of the University.

Merchandise that bears a registered (or common law) trademark, trade name, service mark, or logo of Lehigh University must be approved, in writing, by Learfield Licensing Partners prior to production.

Any vendor creating products for Lehigh University and/or using Lehigh Unviersity names, logos, and trademarks must be licesned. Merchandise produced without written authorization may be considered "counterfeit" and subject to all available legal remedies, including seizure of the merchandise.

Logos are to be used as registered, including the appropriate trademark designation, but may not be otherwise altered without the expressed authorization of Lehigh University and Learfield Licensing Partners. One exception to this policy is uniforms that are used by the Lehigh University athletic teams. This would apply only to the "on-field" product and not to any replica or authentic items that are to be resold to the general public.

Departments and recognized student groups may use certain logos for official business. Please visit our contacts page to send an inquiry.

University logos cannot be used to endorse or promote a private group or business unless authorized by a formal contract or sponsorship agreement. Private companies are allowed to use University logos only after entering into a promotion specific agreement with the University.

No coach or athletic staff member has the authority to complete an authorization form allowing an unlicensed vendor to utilize licensed marks. Nor do they have University permission to directly send logos to unlicensed vendors. Any vendor wishing to use a Lehigh mark should be directed to Learfield Licensing Partners for guidance on acceptable procedures.

Logos may not be created for University departments, clubs, or organizations without prior approval from University Communications and Public Affairs.
Policies for Logo use
Logos, Color Palate, Templates, and Typography Standards 
ASSETS AND RESOURCES FROM UCPA
Guidelines for Using the Institutional Lehigh Logos on Promotional Products
When creating your design, University Communications and Public Affairs requests the following be taken into consideration:
Avoid creating a design that appears to be a combined logo - as that compromises the integrity of the Lehigh trademark. Also, the elements of the Lehigh logo should not be separated (ex. Using the shield as an element of the office/dept. logo). One recommendation is that the name or logo of the office/dept. is placed separately from the Lehigh logo (ex. Lehigh logo on right of shirt, "Communications & Public Affairs" on the left side). 
If that's cost-prohibitive, the office name be set in a sans-serif font (to distinguish itself from the university logo font) and placed at least the "x-height" of the "LEHIGH" in the logo to help keep it distinct.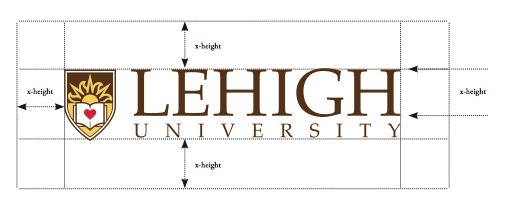 If you are designing a new logo - please use a font for "Lehigh" or "Lehigh University" or "LU" that does not resemble our logo font - such as a san serif font.